Recruitment and selection process with maximum efficiency and no complications!
An online solution for a complete management of all stages within the recruitment and selection process.
The Seeker E-Recruit takes care of the selection process, so you focus in finding the most talented candidate!
The following are all good reasons for you to choose Seeker E-Recruit for the management of your selection processes:
YOUR EXCLUSIVE RÉSUMÉ DATABASE
The résumés received by Seeker E-Recruit are not stored in a shared database.
Each contractor has their own résumé database.
This way, all the investment made to attract and capture talents return directly to your company, without sharing potential candidates with your competitors.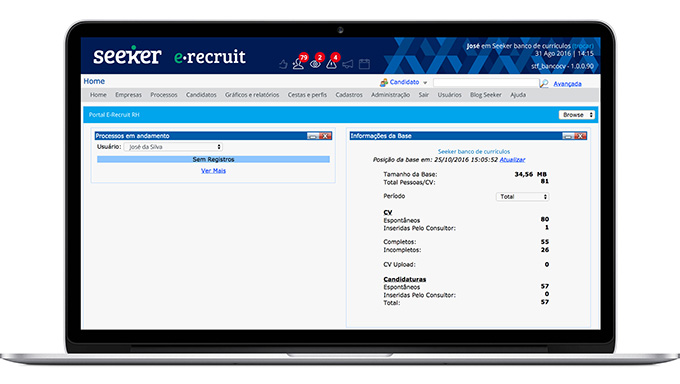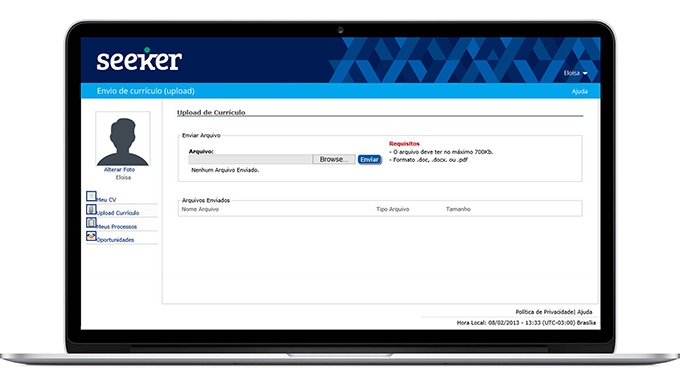 QUICK AND EASY TALENT ACQUISITION
Applicants can upload their résumés in .doc, .docx and .pdf, or fill in an user-friendly form which can be adjusted to the needs of each project.
MORE AUTONOMY TO THE HR MANAGER
Seeker E-Recruit can be integrated to your company's website, HR portal and social media platforms as it automatically publishes vacancies.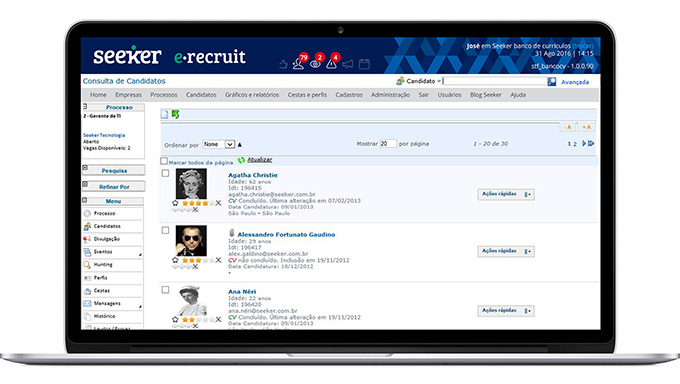 INTUITIVE AND EASY TO USE
Seeker E-Recruit is designed to facilitate your work, so its interface is user-friendly. A quick training session is all that is needed for a team to work with the system.
THE MOST ACCURATE AND COMPREHENSIVE SEARCH
Seeker E-Recruit has the industry's most complete search engine, including keyword search within archived résumés. It also features the application and online events tabs in order to facilitate the screening process of candidates.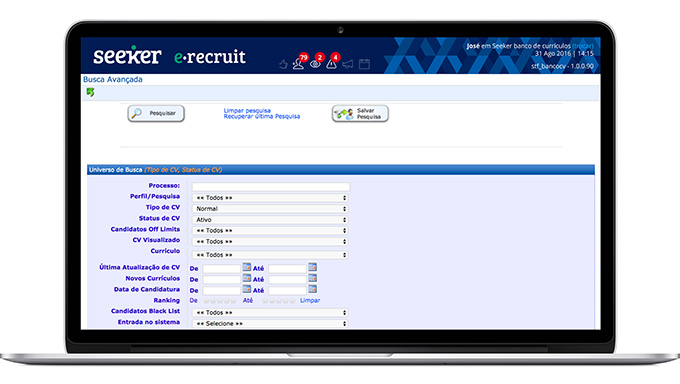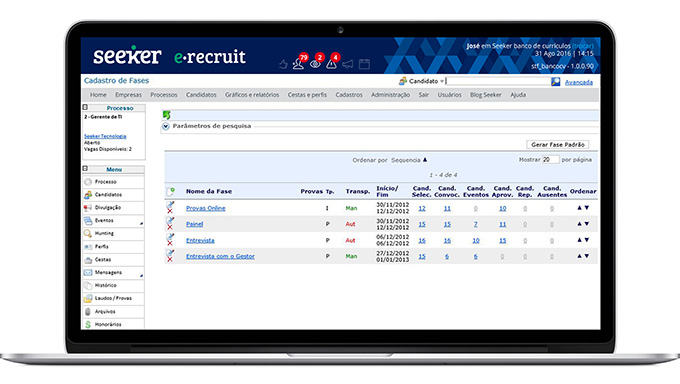 NIMBLE SCHEDULING AND COORDINATING EVENTS
Seeker E-Recruit enables you to schedule events, and each candidate can select the date of interviews, group dynamics and meetings, all online. Everything is automated and can be fully integrated to your Microsoft Outlook.
EASY ACCESS REPORTS AND IMPECCABLE FORMATTING
With Seeker E-Recruit, you can analyze the progress of your selection processes directly from the control panel and upload the most relevant data to your meetings, without wasting time formatting reports! It also allows you to export data to spreadsheets.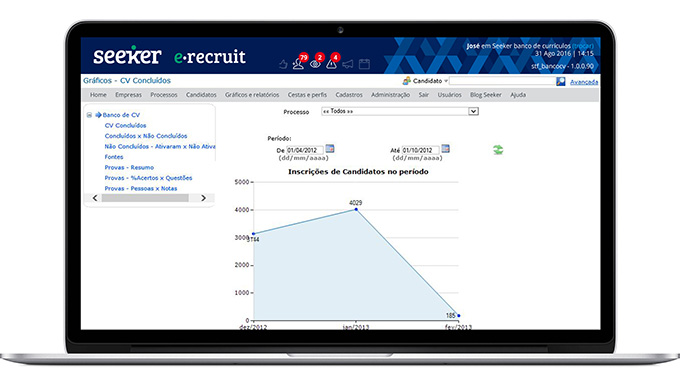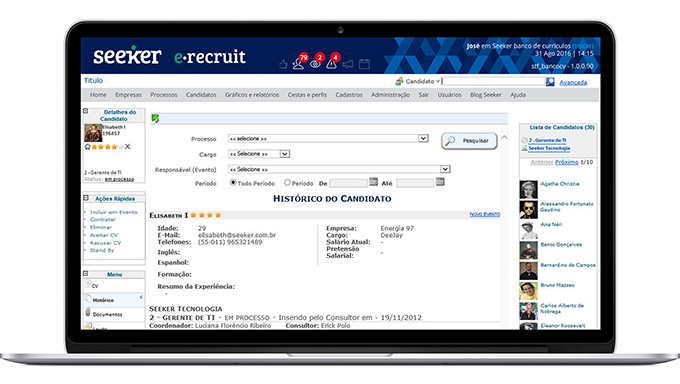 THE ENTIRE HISTORY OF YOUR CANDIDATES IN ONE PLACE
Seeker E-Recruit allows integration with third-party systems, attaching reports, interview advice and other files that are related to the case without the need for file conversion.
PROXIMITY AND INTERACTIVITY WITH CANDIDATES (CANDIDATE RELATIONSHIP MANAGEMENT)
With Seeker E-Recruit, your candidates are always well informed about the progress of the process, either through your website, email or Twitter.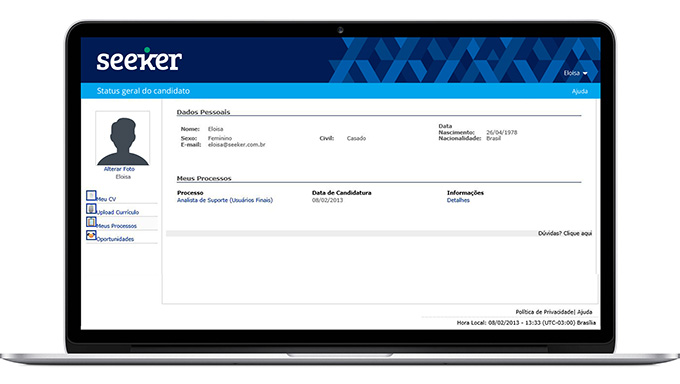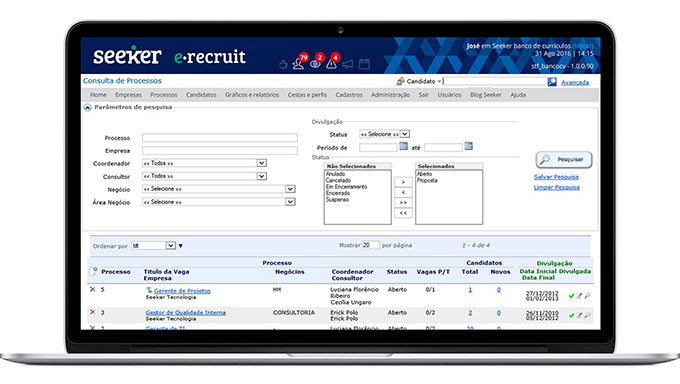 FLEXIBILITY AND VERSATILITY
Seeker E-Recruit doesn't have a user, process, or résumé limit. In addition, E-Recruit provides integration via ERP(Enterprise Resource Planning) with webservices to exchange information about business, processes and candidates.
YOU CAN CONTRACT THE SERVICE AND START RIGHT AWAY. ALL THAT REQUIRES IS TO JUST HAVE A COMPUTER CONNECTED TO THE INTERNET
Any investment in infrastructure is unnecessary, because Seeker E-Recruit can be immediately deployed.